Faith Life Work 2015 - 2016
United, we give the children in our care the best education, rooted in Jesus' teachings.
2015-16
The Start of the Scholastic Year
We marked this by a Mass for the whole school in our hall on 17th September 2015 at 9.30am. Our parish priest, Father Robert Owens was the celebrant.
CAFOD ASSEMBLY
This was led by CHRIS BAKER, a volunteer worker from CAFOD. She visited us on Wednesday 23rd September 2015. The whole school, except Reception class was present. Through appropriately dressed chefs (our children), a pie and a cake, she illustrated very well the difference between peace and conflict in the world.
MACMILLAN COFFEE MORNING
After having advertised and talked about the importance of this fund-raising event in our school newsletter and assemblies, many parents donated home-made cakes, buns and biscuits of every kind to this cause. Parents came into school on Friday morning 25/9/15 for a slice of cake and a cup of tea/coffee and a relaxed chat. It was a lovely atmosphere. Year 4 supervised this event. Pupils bought buns from morning break onwards. We raised £242.04 for Macmillan's nurses. Well done everyone and many thanks to our parents for their ongoing support.
Inspiration Day for both staff and pupils on 30.9.15
Theme: INSPIRATIONAL PEOPLE
LITURGY about THE ROSARY
This was led by the Faith Life leader for the whole school on 7.10.15 at 9.15am. The importance of the recital of the Rosary was explained - how Our Lady has advocated it in her apparitions; the different Mysteries and what each category means. Children in Year 5 and in Year 4 played a big part in this liturgy.
Rosary beads were given to each child. The whole school recited a decade of the Rosary every day at 12.45pm together in the hall throughout the month of October. Progressively, the children themselves started leading the decade, including a brief, verbal and visual explanation of the Mystery of that day.
HARVEST FESTIVAL 15.10.15
We held this in our school hall in the afternoon. It was led by St. Joseph's pupils in conjunction with The Churches Together in Claremount/Boothtown. Father Guy Jamieson officiated.
Parishioners from St. Bernard's Church, St. Thomas' and the Methodist Church in Boothtown were invited. St. Joseph's staff and pupils had been bringing all sorts of food and hygiene items, pet food, toiletries, etc. into school. These were later donated to the Food & Drop In Centre, St. James' Road, Halifax. In the actual event at school, Clare Dennis, a volunteer at this centre, gave an enlightening speech about its vital role in the community.
We sang harvest hymns happily and enthusiastically. We served refreshments to our visitors afterwards.
Everyone commented how uplifting the whole experience was! Many thanks to Father Guy who is an inspirational person!
L

ITURGY for whole school - ALL SAINTS - 4.11.15
Leading this Liturgy, Mrs. White explained the difference between the Feast of All Saints which fell on the previous Sunday and the Feast of All Souls on 2nd November. The need to pray - not only for our deceased relatives but also for all souls - was highlighted.
The school's 4 saints linked to the 4 teams' colours were then talked upon. Four adults read interesting information about St. Andrew, St. George, St. Patrick and St. David, representing the colours blue, red, green and yellow respectively. There's healthy competition between these teams and the result of the winning team for the previous week is announced every Monday morning in the Celebratory Assembly.
Children from Years 4 and 5 read prayers and reflections. A teacher read the Gospel of The Beatitudes. A powerpoint presentation was shown to enhance the children's understanding and render the liturgy more interesting.
November Bags
Throughout November, one child per class takes home a November Bag which contains a poppy, a candle, a note for the family and a laminated prayer to be recited together as a family at home. A questionnaire is also included for feedback to school. The bag is returned to school in the morning.
Remembrance Day
Year 6 pupils led an excellent assembly for the whole school on 11.11.15.
They prepared beautiful and meaningful artefacts. A cenotaph was built by Jessica and Danny. Wreaths with poppies were built for a representative from every class to go up and place a wreath on the cenotaph. Kial and Daniel prepared a powerpoint presentation as a changing background throughout the whole assembly.
Celebratory Assemblies - 16.11.15
Every Monday morning at 9.15am the whole school meets for an assembly in which pupils who have done very well during the previous week are rewarded publicly. The parents of these children are formally invited and usually do attend this event. The Gospel of the previous Sunday is read by children. The headteacher or leader explains the Gospel's message in child-friendly language.
FRIENDSHIP Inspiration Day
This was on Monday 16.11.15. Staff and pupils came dressed in brightly coloured clothes (rainbow colours) to radiate happiness and friendship which marked the start of the Anti-Bullying week. Every class worked on Friendship & Anti-Bullying topics during the whole day. These activities were displayed in different formats in an assembly to which parents were invited on Friday 20th November.
Year 1 Class Assembly
This was about Christ the King following this feast on Sunday 22nd November 2015. The children read their parts and the prayers really well. Well done Year 1!
ADVENT BAGS
These were prepared and distributed to the families who ordered them in readiness for the start of Advent on 29th November 2015.
St. Bernard's Church Christmas Fayre
Every pupil in St. Joseph's School was given a 'jar' which they decorated and filled with sweets, chocolates, small toys, jewellery, etc. at home. The response was excellent and we sold all these brightly coloured jars at the Fayre on Sunday 29th November 2015 in the church hall. The jars were very popular and sold very quickly! We made £44.00 profit for the Church Fayre. A big 'thank you' to all our parents for their co-operation and support.
TRAVELLING CRIBS
As part of our preparation during Advent, a travelling crib was given out to each class at the end of the celebratory assembly on Monday 30.11.15. A child takes the crib home every night to set it out, pray and reflect together as a family in front of it.
Inside each crib, there are 10 knitted statues, an explanatory booklet, 2 colouring sheets and a small feedback form.
ST. ANDREW'S DAY - BLUE
His feast was today, 30th November.
St. Andrew is one of the four saints associated with the 4 team colours. A colour is allocated to pupils and members of staff for the purpose of rewarding children where praise is due and for even doing that little bit extra.
As it was a special day for the blue colour today, Mrs McHale organised a party in the afternoon for all the members of the blue team.
Moses' Basket from CATHOLIC CARE
Eileen Holland, a representative from Catholic Care in Leeds visited our school and delivered an assembly to the whole school on 2.12.15 at 9.15am. She explained some of the organisation's history. Eileen talked about the Gianna Project which supports families who need help with newborn babies.
She left us a Moses Basket and encouraged the children to donate things which Baby Jesus might need, if he was born in 2015. So, this Advent, St. Joseph's School is supporting this worthwhile cause in our diocese. This specific project is called 'When a Child is Born Appeal'.
Let's try and fill this Moses Basket! I know we will. Mrs. White 2.12.15.
Advent Service at All Saints Catholic High School
Year 5 class was one of the five Catholic primary schools which attended this beautiful service this morning. There were prayers, dancing, drama, readings - all emphasizing the preparation for the birth of Jesus. Classes were designated to different rooms and shown how to make Christmas origami. It was a lovely experience. Mrs. White 3.12.15
The Wriggly Nativity
That is what the Reception Class' nativity play was called. Reception children performed it twice on 8.12.15 and their parents were delighted. They told the Christmas story in a way pertaining to their age. The rest of the school really enjoyed watching it too, in the dress rehearsal on the previous day.
Advent Class Assembly
On Wednesday 9.12.15, Year 4 class led a whole school assembly. They explained what each candle on the Advent wreath represents and what the feast of Christmas means to them. Every pupil in the class played a part and the parents who were present, enjoyed it thoroughly.
The Door of Mercy
Pope Francis declared THE YEAR OF MERCY which started on 8th December 2015 and will end on 20th November 2016. Forgiveness is the key factor which everyone, in today's world, needs to put into practice. Our school held a ceremony in which The Door of Mercy was opened by our parish priest, Father Robert Owens on 10th December. This marked the beginning of this important jubilee year for St. Joseph's School.
CHRISTMAS DISPLAYS
Every class chose an aspect of Jesus' Birth and depicted it on a display board in corridors.
The Annunciation-modern with Twitter & Facebook - Yr 3
Mary on the donkey (the journey) - Yr 5
Twinkle, Twinkle - Rec
Silent Night - Yr 2
The Manger in the stable - Yr 4
The Shepherds at night - Yr 6
The Three Kings - Yr 1
They all look lovely and so alive!
Year 6 class Mass
Year 6 led their own class Mass in the school chapel on 10.12.15 at 9.30am. They read from the Scriptures, a Responsorial Psalm and the Bidding Prayers. Father Bob thanked them for their contributions. The theme was 'The Kingdom of God is within you' - relevant to Advent.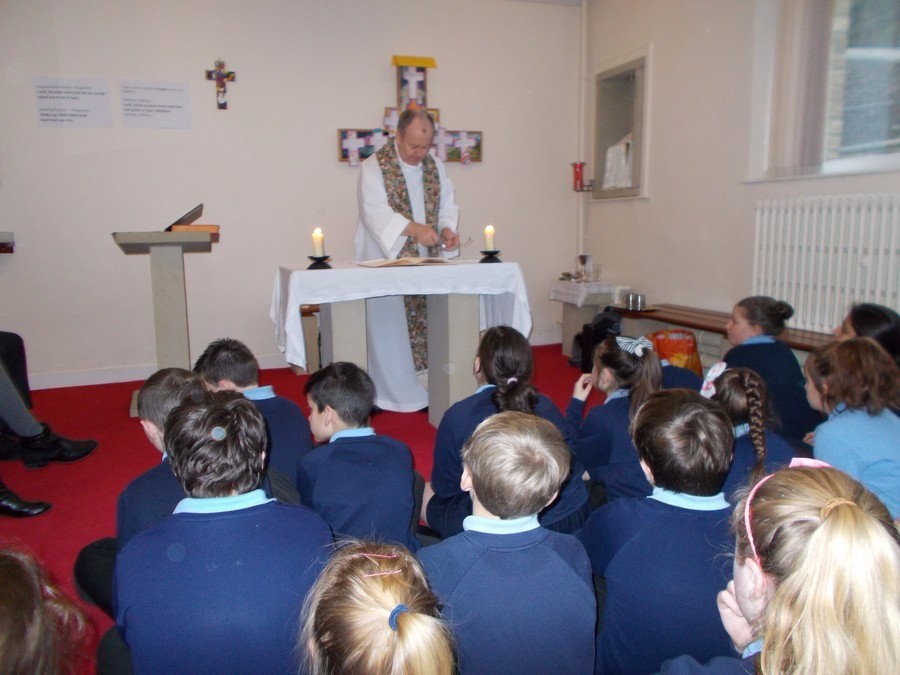 Nearly every week a class hears Mass either in our own school chapel or goes to St. Bernard's Church on foot in time for the 10.00am Mass. A list of forthcoming Masses is usually compiled and distributed to all the teachers at the beginning of every half term.
A Christingle Service at St. Bernard's Church
This took place on Monday 14th December 2015 at 2.00pm. It was led by the pupils of St. Joseph's and members from The Churches Together in Claremount and Boothtown.
The Nativity story was portrayed through various readings from the Scriptures, a tableau, acting and singing. Children did all these and the whole school participated in the singing. Father Guy from The Churches Together introduced the service and read out two of his own poems, one of them with Clare Dennis.
Thank you Fr. Guy and Clare.
Our children did incredibly well and many people who attended the service were paying them compliments straight afterwards. We used the 100 christingles (Christ light) that we had made at school. All our pupils found this service fascinating with the christingles! Both young and old alike found it endearing, moving and enlightening.
Father Bob gave us a blessing at the end.
Thank you to all the parishioners, parents, relatives and visitors who attended the service.
K.S.1 Nativity Play
This was performed twice on Wednesday 16th Dec: once in the morning and once in the afternoon. It was a big success - parents, pupils and staff all enjoyed it immensely. Well done to Yr 1 and Yr 2!
MOSES' BASKET
We did fill it up and Eileen Holland was so pleased when she came to our school to collect it on Thursday 17th Dec. There were so many beautiful baby items in it! Our own girls were amazed when they had a look through them. We sincerely thank our pupils, the parents and school staff for contributing to this 'When a Child is Born' appeal under the GIANNA Project of Catholic Care in our diocese.
End of Term Awards' Assembly
This took place on Friday 18th December - the last day of term - in our school hall. Our head boy and head girl assisted the headteacher in leading the assembly. A group of children from the 'Cheerleading' Out Of School Hours (OOSH) Club entertained the whole school by some wonderful moves and dances.
Seven pupils (1 from each class) were awarded the Headteacher's Book Prize for an outstanding trait throughout the whole term. The parents of these children were also present.
77 pupils were awarded a certificate for 100% attendance during the Autumn term.
The Christmas Hampers' Raffle was drawn - there was huge excitement as the numerous hampers were beautiful, very varied and very full! They had all been kindly donated by the staff and included chocolates, sweets, biscuits, stationery, alcoholic drinks, beauty and creative products, toys, etc.
MASS FOR THE EPIPHANY
We had a Mass for the whole school on Thursday 7th January 2016 in our school hall. Father Bob Owens was the celebrant. A choir sang 'Silent Night' in Polish which was very touching. The readers read expressively and the whole school sang all the hymns beautifully.
ST. JOSEPH'S MISSION STATEMENT
Our school Mission Statement is about to change. All school staff and some governors attended a training day on Friday 5/2/16. Mr. Peter Thompson, a former headteacher led the day and after a great deal of discussion and many ideas, we formulated a new statement and strapline.
A new school logo will be designed, too.
CAFOD LENTEN ASSEMBLY
Two representatives from Cafod, Chris Baker and Jo Woodhead visited our school on Wednesday 24th February 2016 and delivered an assembly to the whole school.
The theme was the importance of clean water and how difficult it is for the children in the third world countries to even carry it to their abodes. Our pupils are encouraged to buy a bottle of water. After having drunk it, they will try to fill it with loose change as a way of school fundraising during Lent.
Fair Trade fortnight
The fortnight started on Monday 29th February. On this day, the school's Junior Leadership Team led a very good assembly regarding the importance of buying Fair Trade products. Each member of the JLT passionately appealed, in a different way, to the very young and old alike. The assembly included a display of actual Fair Trade items, a powerpoint presentation, a question and answer session and prayers by the School Council representatives to which the whole school responded. We are very proud of our JLT! We aim to earn the Fair Trade status in our school.
ST. JOSEPH'S DAY CELEBRATIONS
Because St. Joseph's Feast Day, 19th March fell on a Saturday, we celebrated it on Friday 18th March in school.
The day started with a Mass for the whole school, celebrated by Father Bob Owens in our school hall. Parishioners were invited, as always, however, a special invitation was sent out to those who had donated money towards the purchase of 7 St. Joseph's statues for school.
The statues were blessed by Fr. Bob after the Gospel. At the end of the Mass, the headteacher presented a representative from every class with a statue. Each statue is now displayed on the R.E. focal table in every classroom.
HOLY WEEK
Every member of the Senior Leadership Team led a liturgy for the whole school each morning during Holy Week from Monday 21st to Thursday 24th March. The leaders were Mrs Thompson, Miss Frazer, Mrs McHale and Mrs Angstmann.
GOOD SHEPHERD APPEAL 2016
Mrs. Angstmann and three pupils from Year 4, namely, Zac, Luke and Julia went to St. Anne's Cathedral in Leeds on Friday 6th May 2016 to offer our school's financial contribution to Bishop Marcus Stock. Many other Catholic primary schools in the diocese of Leeds took part in this annual celebration. The money is raised through a considerable number of fundraising activities across the school. Pupils, parents and staff work tirelessly together to achieve the desired success. CW
FIRST HOLY COMMUNION 2016
This year, nine children started on the journey to receive Our Lord for the first time. Eight are from our school, namely, Emily Sweeney, Olaf Figurny, Oisin Gallen-Watkinson, Caleb Stead, Phoenix Gonzalez-Hill, Laura Balewicz, Sophia Peart, Sonny Stewart and Sophie Lathom-Sharp who does not attend our school but is a parishioner of St. Bernard's Church.
The 9 candidates received the Sacrament of Reconciliation on Saturday 7th May in the morning. They were presented to the parish on Sunday 8th May during the 10.00am Mass. On Sunday 22nd May 2016 they received their First Holy Communion at St. Bernard's Church - Father Robert Owens celebrated the Mass. Congratulations to the nine children! CW
The 3 pictures below show our practice in church for the FHC day before the actual event.
Visit to All Saints Catholic College
Year 3 class visited this High School on Tuesday 21st June 2016 to celebrate and thank God for the Sacraments of First Holy Communion which were received recently across schools and parishes in Calderdale and Kirklees. Other primary schools joined in the celebration, too. We met each other warmly, sang hymns, did actions, prayed and had a lovely, meaningful time together. Staff and students from the college organised the whole morning's activities. Year 3 class enjoyed it immensely. CW
LITURGY for the whole school
The Faith Life Group in school organised the above for Wednesday 22nd June at 9.15a.m. Pupils from Year 4 led the liturgy - they talked about John the Baptist's Nativity; his lifestyle; Jesus' Baptism in the River Jordan and the death of John. They also alluded to the legendary links with our town of Halifax. The children read their own prayers, too. The theme of John the Baptist was chosen because it was the feast of his birthday two days later. CW
Leeds Cathedral visit
Year 3 class heard a Mass at the Cathedral on Friday 24th June 2016 in the morning. There were many other Catholic schools from Calderdale and Kirkless. Father Philip from Huddersfield celebrated the Mass which highlighted the Year of Mercy Pilgrimage. We all passed through a Door of Mercy first. This was also a celebration of The First Holy Communion that many children received recently.
After the Cathedral, the class was taken to visit a Museum in Millenium Square where the children had a wonderful time. CW
Year 6 Leavers' Mass
This took place in St. Bernard's Church on Wednesday 29th June 2016 at 6.00pm. It was very meaningful and the children's parents accompanied their children too. The Year 6 pupils read the Scripture readings, the Responsorial Psalm and the Bidding Prayers which they wrote themselves. They brought up the Offertory Gifts which included typical items from school. Many commented on how lovely it was to see this happening in church. CW
END OF YEAR MASS
Father Bob Owens celebrated a Mass for the end of the academic year on Thursday 21st July 2016 at 9.30am in our school hall.
The whole school attended. We sang beautiful hymns and it was a wonderful way to end our religious activities for the year 2015/16. We thank God for enabling us - during the whole year - to carry out Faith-related events which benefited the needy and the poor and enriched our own Catholic Faith. CW