Faith Life Work 2014 - 2015
Our Mission Statement:
We always do our best to give children in our care the best education, rooted in Jesus' teachings.
Last batch for Nepal
Linda Padgett Sherpa came to school on 16th July and collected all the children's clothes, uniforms and cuddly toys that parents have been sending into school 'For Nepal'. She has a large quantity now to transport to the village where she lives in Nepal. She will be going on 3rd September 2015. She and her Nepalese companion have thanked the pupils, their parents and the staff members of St. Joseph's heartily for their enthusiasm and continuous commitment in helping Nepalese children.
Year 6 Leavers' Mass
Father Bob celebrated a Mass of Thanksgiving and Farewell on Tuesday 14th July 2015 at 5.00pm in our school hall. Parents and families of the Yr 6 pupils attended the Mass which was led by the children themselves. Staff members were also present. Each individual pupil had prepared a personal prayer in the shape of a cross which they fixed to a large wooden crucifix during the Mass. These crosses with prayers written on them will remain stuck to this crucifix, which is usually found in the school chapel, for a whole year.
MACMILLAN CANCER SUPPORT ASSEMBLY
On Wednesday 8th July, Ms Viki Power, the Fundraising Manager for Calderdale and Bradford visited our school and delivered a presentation about the worthwhile cause of fundraising for Macmillan. She explained how severely cancer affects households and how the money raised is spent and where it goes. We had held a coffee morning in September 2014 in aid of Macmillan Cancer Support. We intend to do the same when we return to school after the summer holidays.
WHOLE SCHOOL MASS
We celebrated a whole school Mass on Thursday 25th June at 9.30am in our school hall. The theme was the Birthday of St. John the Baptist as his feast was on the previous day. A pupil read the introduction in which she gave some information about the saint, like for example, that when John baptised Jesus in the River Jordan, this signified the start of Jesus' ministry on earth.
FIRST HOLY COMMUNION Celebration
There was a vibrant and celebratory liturgy on 19th June 2015 at All Saints Catholic High School, Huddersfield to praise and thank God for the children who received their First Holy Communion this year. Several Catholic Primary Schools from our area attended. It was lovely to see the different uniforms yet the same scope.
The Feast of The Sacred Heart
On Friday 12th June Yr 2, Yr 3, Yr 4 and Yr 6 classes went to St. Bernard's Church in the afternoon to express their devotion to the Sacred Heart of Jesus. Children read some excerpts from the Bible, Prayers of Intercession, a parable and each child wrote down their individual prayer to God asking Him to help them improve their relationship with people whom they may not like very much.
Thank you to one of our parents
One of our parents brought a large quantity of delicious food to all the members of staff to share and enjoy at lunchtime on Friday 5th June. It was her son's birthday and furthermore she wanted to give something back to the school community before Eid's arrival.
LITURGY for the whole school on 3rd June 2015
Ms Linda Padgett started our Liturgy with a presentation about Nepal. This portrayed our uniforms and clothes worn by Nepalese children. Some of our pupils read Prayers of Intercession to the Holy Spirit and we ended by reciting a prayer to St. Joseph which was shown on the projector so everyone could join in.
FIRST HOLY COMMUNION Celebration
This took place on Sunday 31st May 2015 in the 10.00am Mass at St. Bernard's Church. St. Bernard's parish together with our school organised a wonderful celebration of this wonderful event. Congratulations to the 9 children and their families and friends.
Staff training day - 22nd May 2015
One of the activities that staff at St. Joseph's worked on was the review of our existing School Mission Statement to ensure it truly reflects what our Catholic school community stands for.
FINAL PREPARATIONS for First Holy Communion
Before we broke up for Spring Bank half term, we worked hard to make sure that the candidates for FHC are fully prepared to receive this Sacrament on 31st May. We want the celebration to be a memorable one for them and therefore, preparations were underway both in school and in church. The beautiful hymns to be sung on the day were practised on two consecutive Wednesdays in school and we had practices of the actual day's order of events in St. Bernard's Church twice too, after having heard the 10.00am Mass there.
FUNDRAISING DURING LENT
The total amount of money raised from all the activities that we organised was £730.00. A cheque for the amount of £365.00 was sent to CAFOD and another cheque for the same amount was passed on to CATHOLIC CARE in the diocese of Leeds. Thank you everyone! Mrs White 12.05.15
FATHER BOB VISITS RECEPTION CLASS
Year 5 had a class Mass in the school chapel on Thursday 6th May at 9.30am. Afterwards, Fr. Bob visited Reception class and had a friendly talk with them. In this way, they get to know the priest and vice-versa. Usually, Key Stage 2 pupils, that is from Year 3 upwards, have an own Mass in our chapel or go to St. Bernard's Church to hear a weekday Mass.
BUN SALE in aid of the earthquake in NEPAL
On Friday 1st May we held a bun sale across the whole school to raise funds in aid of Nepal. Just before the sale started, Ben Searle in Year 6 read out a heartfelt, moving poem which he had written himself, dedicated to the victims of Nepal.
We raised a fantastic £191.00 from the bun sale!
A big THANK YOU to the pupils, parents
and staff of St. Joseph's.
The earthquake in Nepal...
The earthquake that hit Nepal on 25th April 2015 left all of us shocked and saddened by the death toll and devastation it left behind.
On Wednesday, 29th April the whole school took part in a liturgy in which we prayed heartily for the people of Nepal. The liturgy started with a procession from our chapel to the hall, the previous Sunday's Gospel was read out and staff members/pupils read some Prayers of Intercession.
We, as a school feel particularly connected to Nepal because we have been collecting uniform items and children's clothes which are then transported to this country by our contact, Mrs Linda Padgett for the last 18 months.
SACRAMENT OF RECONCILIATION
Our 9 candidates who are preparing to receive their First Holy Communion at the end of May, made their First Confession on Saturday 11th April 2015 at St. Bernard's Church, Range Lane, Halifax. Parents and school staff supported them and it was meaningful to see them and their families hearing Mass afterwards amongst the parish community.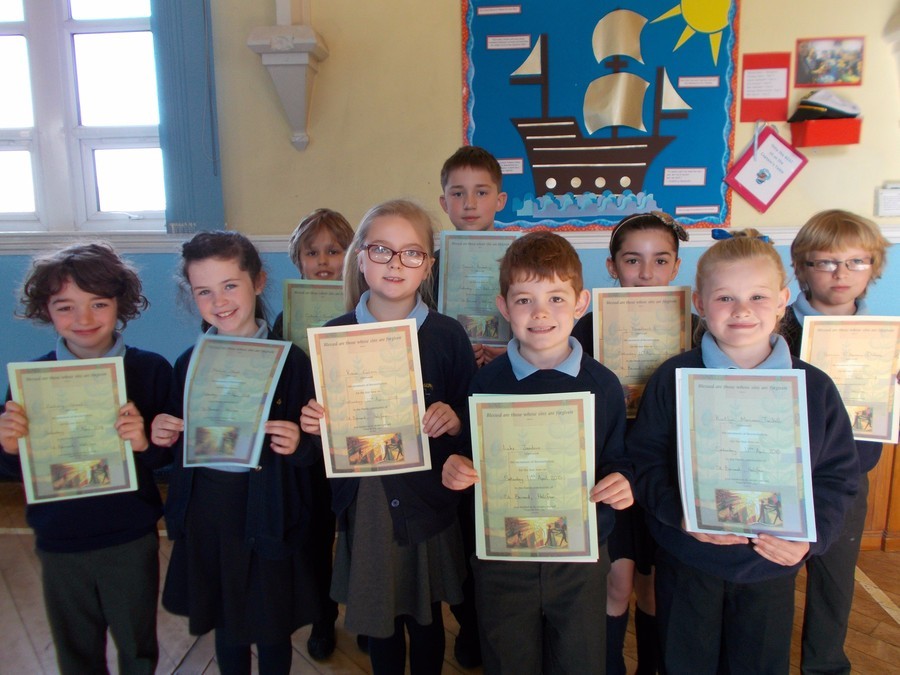 LENTEN FUNDRAISING
The total sum of money collected during Lent was £730.00 as a result of the numerous activities that were organised in our school. We thank heartily all the pupils, their parents, the staff, the governors and the P.T.A. who made this possible. The never-ending support and commitment from all these elements form the very core of our strong Catholic school community.
The Last Day of Spring Term...
was a celebratory and a calming day. Seven praiseworthy children had been chosen by their teachers and were presented with the End of Term Headteacher's Book Award. This award is for some outstanding and consistent feature of the child that the teacher has witnessed during the last term.
Moreover, another seven - one from each class - 'Always Children' were identified and presented with an Easter Egg each. An 'Always' child means always doing the right thing practically, in everyday school life, i.e. good manners, following the school rules, punctuality, putting into practice the core values, like, kindness, friendship, love, etc.
Four Year 6 pupils started this Awards' assembly by reading out to the whole school some beautiful prayers. Year 4 class entertained us by playing the recorders and they sounded fantastic. Well done everyone! We wish everyone a Happy and Holy Easter!
Easter Bonnet parade...
On Wednesday 25th March, we had a beautiful parade of Easter bonnets, bow-ties and ties! They all looked extremely creative and original - on both pupils and staff alike. The whole school assembly started by children reading out some of CAFOD's Weekly Prayers of Intercession for Lent.
STATIONS OF THE CROSS
During Lent pupils and staff prayed the Stations of the Cross in our school chapel on a regular basis. The children listened intently and meditated on the passion and suffering of Christ.
St. Joseph's Feast Day
The 19th March was a special day for the school community. We started the day off by Father Bob celebrating a Mass for the whole school in our school hall.
Activities related to the saint took place afterwards, to enhance the children's knowledge about this saint in a fun w ay - who was he? How does our motto 'Always Do Your Best' relate to St. Joseph? There was prose or poetry in an extended project for the more adventurous.
An ART PROJECT was organised by Miss Frazer and Mrs Fahey for the entire school in the afternoon. This involved fingerprints, butterflies and flowers!
Moreover, in the afternoon, each class had a 30 minute sport session with 2 coaches from JB Coaching. After each sport session, a refreshing, welcoming treat was given to every child and every adult, too.
FESTIVAL OF CROSSES
The Calderdale Cluster of Catholic Schools organised this event in which every school produced a variety of crosses made from different materials, such as, wool, mod-roc, wood, cross-stitch material, tree branches, cardboard, paint, crepe paper, etc. This took place on 23rd and 24th February. Pupils showed great enthusiasm in this activity which portrayed the Lenten journey and the Easter story. Each school exchanged some crosses.
OUR EASTER PLAY
On 23rd March 2015, Yr 3 and Yr 4 classes performed the Easter Story. There were two performances, one at 2pm and the other at 6pm. The children sang many beautiful hymns which retold the story from Palm Sunday to the Crucifixion. The parents enjoyed the production immensely.
COLLECTIVE WORSHIP K.S.2
Year 4 class led the Collective Worship for K.S.2 on Friday 30th January. The interesting theme of 'Stories' led to the Parable of the Unforgiving Servant which the children enacted very well. The king, especially, enjoyed stating, "I'm a king!" and "I'm wealthy!". In this parable, the king represented God and the servant represented the people on earth.
COLLECTIVE WORSHIP K.S.1
On Thursday 29th January, the Collective Worship for K.S.1 was led by our new Assistant Headteacher, Mrs McHale. It was about choices we have to make. We should not judge someone by the outward appearance, but by what lies inside. She brought a small packet of sweets, a small chocolate and a fresh orange. The child who chose the orange had made the best choice because inside the fruit there are many vitamins and good nutrients for our good health.
Hymn Practice
We had a hymn practice on Wednesday 28th January with Mrs Parker, a former teacher at this school. The whole school took part. We're already thinking of the Lenten period for when we return from our half-term holiday and St. Joseph's Feast on 19th March.
NEPAL
Linda Padgett Sherpa, Nare and Paul Taylor visited our school on Wednesday 21st January 2015. They delivered a presentation including a talk to the whole school about the need for clothes and uniform items for children in Nepal.
Linda is a retired teacher who has taken up residence in Nepal; Nare is a Nepalese mountain guide and Paul is a supply teacher who visits Nepal to climb mountains and teach children there. Linda and Paul work tirelessly to make people like us aware of a basic need, such as clothing, of Nepalese children.
Nare has built, with help from his village community, a centre for babies and toddlers, a safe place to stay at, whilst their parents are out at work. Otherwise, they would just be left on their own at home!
At St. Joseph's, we intend to continue our project of collecting uniform items and children's clothing for NEPAL. Please continue supporting us! We thank you in advance.
HAPPY NEW YEAR from Year 6
Year 6 class led a whole school assembly on Wednesday 7th January which portrayed the meaning and the different ways of celebrating a new year in different countries contemporarily as well as historically.
The Epiphany
On Monday 5th January 2015, our parish priest, Father Robert Owens celebrated a Mass for the whole school in our school hall. This was for the feast of The Epiphany and it marked the start of Spring Term 2015 too. Though at short notice, pupils read the First Reading, the Responsorial Psalm, the Second Reading and the Bidding Prayers very expressively.
Carol Service in church
On 17th December 2014 at 2.00pm, the whole school went to St. Bernard's Church in Halifax and led a Carol Service through acting, singing and several readings. Many pupils' relatives and parishioners attended and it was a great success with everyone. We even had some children dressed in the traditional Polish, Chinese, Jewish, Indian and Spanish costumes to emphasize that Jesus was born for everyone.
The parish priest, Father Robert Owens thanked the school heartily and at the end of the service gave us all a blessing.
Nativity Productions
Reception Class performed "Twinkle, Twinkle Christmas Star" on 11th December. They retold the Christmas story through singing, readings, dancing and acting and they did it so beautifully!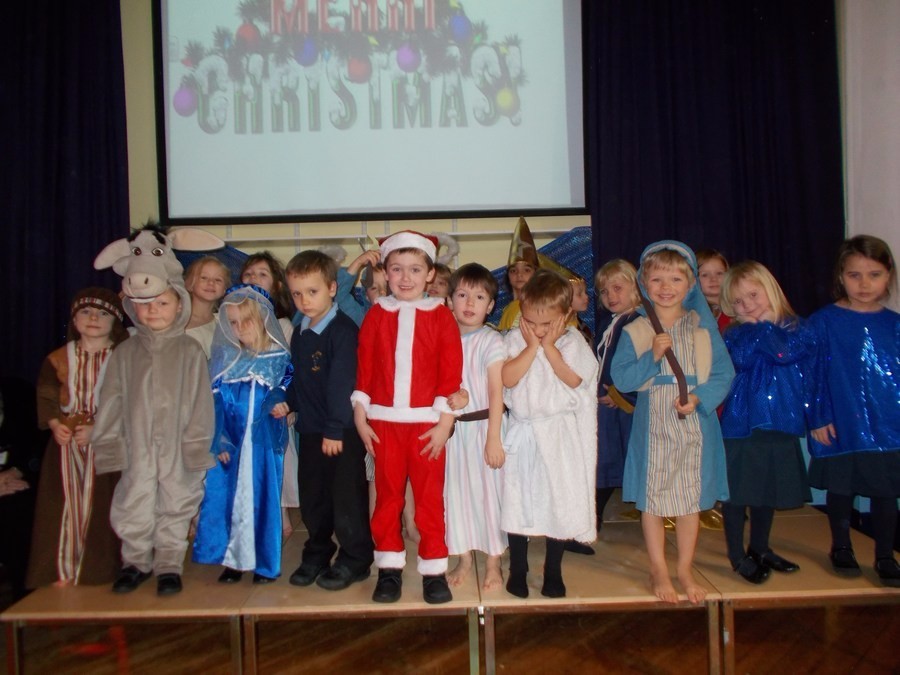 Year 1 and Year 2 performed a combined production called "The Very First Christmas" on 9th December. Both the afternoon and the evening performances were very well attended by the pupils' relatives who enjoyed the production immensely.
Rotary Club in Calderdale
After a presentation from Mr Bryan Harkness, a co-ordinator from the Rotary Club, pupils and staff members filled about 85 shoeboxes with many diverse items to be distributed to the needy people living in Calderdale. That was a wonderful response! Mr Harkness collected all the boxes on 8th December 2014 in time for Christmas.
This was very heart-warming, thinking of the would-be smiles on the recipients' faces when they opened the boxes! Thank you so much to all the parents.
Travelling Cribs
We prepared a Travelling Crib for each class and one for display in our hall. Each consisted of 10 pieces: Mary, Joseph, 2 shepherds, 2 sheep, a donkey, a cow, an angel and a star. The journey of these cribs started on 1st December. A child in every class was chosen daily to take the crib home to pray together as a family.
A Celebratory Assembly takes place regularly on a Monday morning at 9.15am.
On 1st December 2014 two boys read the Gospel point of this week which marked the start of the Advent season. We displayed two Advent wreaths and two travelling cribs. Stars of the Week were awarded a certificate and achievements outside school were acknowledged as well.
We normally have a hymn practice on Wednesdays at 1.00pm.
A Community Harvest Mass & Celebration took place at St. Bernard's Church, Range Lane, Halifax on Sunday 19th October 2014 at 10am
Several children from our school took part in the Offertory Procession and took up some of the Harvest provisions that they themselves had brought to school. Many parishioners commented on how moving and well-organised the Harvest Mass was.
A wonderful collection of donations for Harvest time was received from the families of our pupils and members of staff. These provisions were taken to the Food & Support Drop-In Centre in St. James Road, Halifax where many homeless and poor people are helped every Saturday morning.
OCTOBER & HARVEST TIME:
A representative from CAFOD (Catholic Agency For Overseas Development) visited our school on 1st October to explain what this organisation does and how it helps poor people in faraway countries. This will set the pace for our forthcoming request to our pupils and their families to start thinking about bringing tinned food, pasta/rice/soup packets, toiletries, etc. into school.
We will then donate all these to the homeless and needy people - in the Harvest spirit of sharing and generosity.
MacMillan Coffee Morning
The MacMillan Coffee Morning, in aid of cancer support, which was held on Friday 26th September in our school hall was a really successful event.
Pupils brought into school an abundance of homemade buns, cakes and biscuits on the day before. A big thank you to all the parents and carers of our children for their generous contributions to this very worthy cause.
Year 6 pupils helped in setting up the hall with bunting, balloons and games on Thursday afternoon. We had received these materials in a free kit from MacMillan's themselves.
The enthusiasm and politeness shown by the whole Year 6 class were undoubtedly indispensable to the smooth running and success of this event. Thank you Year 6 class! Many thanks to Miss Frazer and Mrs Gaddu who both worked tirelessly alongside Year 6 during a hectic Friday morning.
All the children - from Reception to Year 6 - had the opportunity to buy buns after the adults had left at 10.30am. All were excited about buying buns!
We decided to display the remaining buns and cakes outdoors in Key Stage 2 playground at the school finishing time as the weather was fine. A group message was sent out to all parents at lunchtime advising them of this, thereby all buns were taken away in return for a donation!
There were some very generous donations at that point of time as parents who came straight from work to collect their children and who could not make it in the morning, were only too happy to contribute towards MacMillan's cancer support.
WELL DONE EVERYONE
A staggering £319.73 was raised! THANK YOU