Faith Life Work 2017-18
We continuously strive to instill the values of the Kingdom of God in our children. Events depicted on this site show the practical side of our Catholic life in school.
Year 2 have been making their Lenten Promises this week.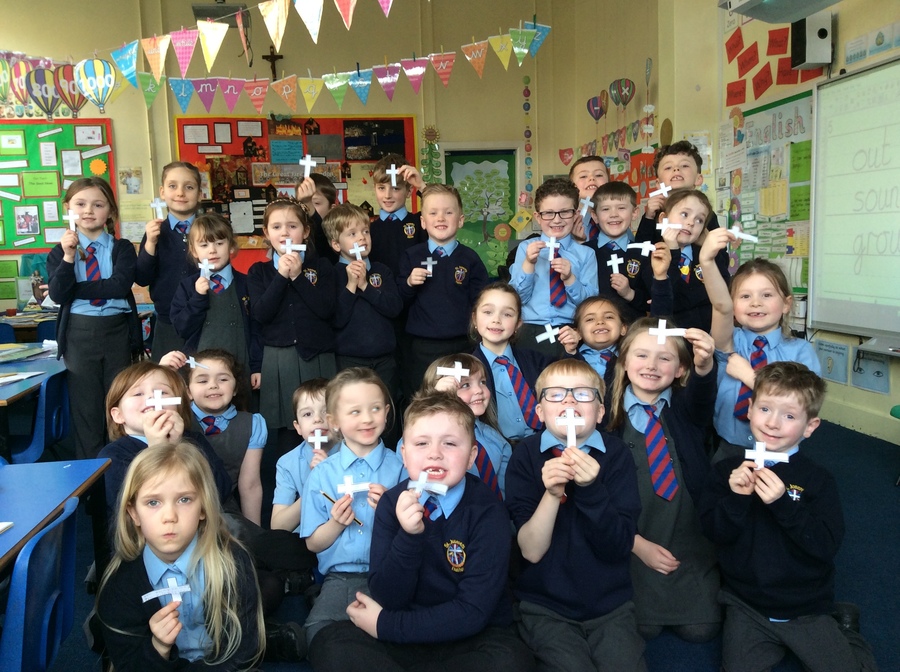 ASH WEDNESDAY
EYFS and KS1 pupils had a Liturgy in the school hall (led by year 2 pupils) whilst KS2 attended St. Bernard's church for the distribution of ashes.
Friendship Prayer Bag
This month we introduce our new Friendship Prayer Bag. Children will take it in turns to take the prayer bag home for the evening to share with their families.
Epiphany Mass
Pupils and their parents along with members of staff attended Mass on Sunday at St.Bernard's Church, Halifax. Some pupils from Year 2 led the offertory procession dressed as kings and pupils from Years 3 and 4 did the bidding prayers and readings.
Epiphany reminds us that if we are a king or not, it is wise to follow Jesus, the King of Kings.
Christingle Service
Our Christingle Service was held in St. Bernard's Church. We were joined by parents and governors. The service ended with a blessing from Father Bob.
Headteacher's Awards Assembly
The Headteacher gave out rewards and certificates for recognition of pupils hard work and achievements over the autumn term.
Whole School Collective Worship
Our whole school Collective Worship was led by the Head Boy and Head Girl. They lit the first candle on our Advent Wreath. The Travelling Cribs were then handed out to each class for pupils to take home and pray/reflect together as a family. Each night the Travelling Crib goes home with a different pupil.
First Sunday of Advent
Some of our school governors and staff joined pupils from Reception and Year 6 at Sunday Mass. The pupils read Bidding Prayers, performed a song and led the Offertory. The Mass was followed by St. Bernard's Christmas Fair.
Halifax Minster Visit
Years 1 to 6 each visited the Minster to attend workshops to look at the similarities and differences between Christianity and Islam as part of our Other Faiths week.
Laudato Si
The children in Years 1 to 6 had an assembly today, learning about how their gifts from God can help to make our world a better place. Following on from this assembly, Year 5 will take part in the Laudato Si project.
Harvest Donations
A huge thank you to everyone who has contributed to our Harvest Collection. The donations will be collected on Wednesday by the Halifax Food and Drop-in Centre and given out to those in great need.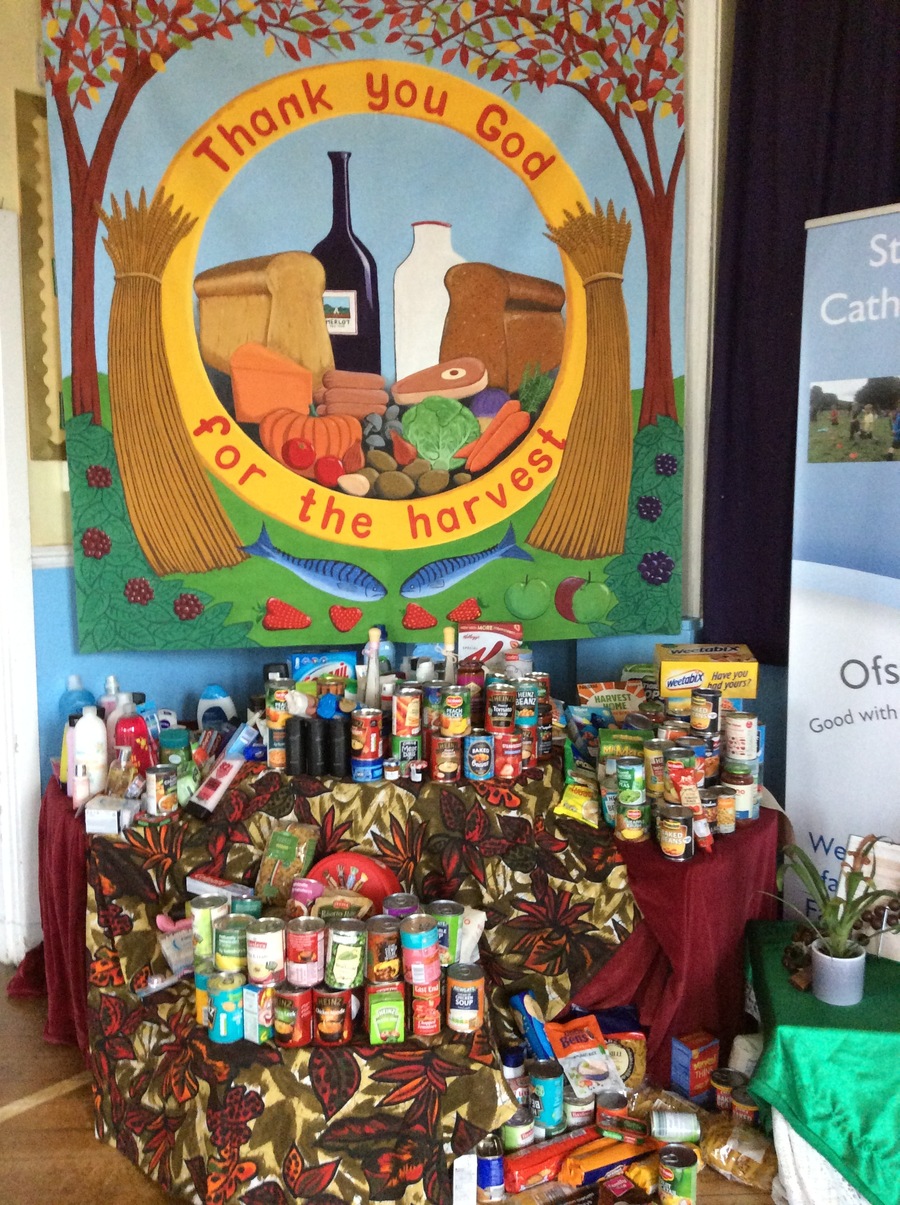 Our Harvest Assembly led by Year 2
We were joined by Brenda Hobson from Churches Together who talked to the children about the work that they do at the Halifax Food and Drop-in Centre in Halifax. Our harvest donations will be sent on to them next week.
October
The month of the Holy Rosary
Throughout October pupils and staff have joined together in our School Chapel to Pray the Rosary during their lunchtimes. We even had one of our school governors and a parent leading the prayers, in addition to our pupils.
Pupils have also been taking it in turns to take Prayer Bags home each night to pray with their families.
Praying the Rosary with Father Bob in our School Chapel.
Brighten Up Your Shoes Day
in aid of CAFOD
19th October 2017
A huge thank you to everyone who took part in the day and donated money. We raised £65.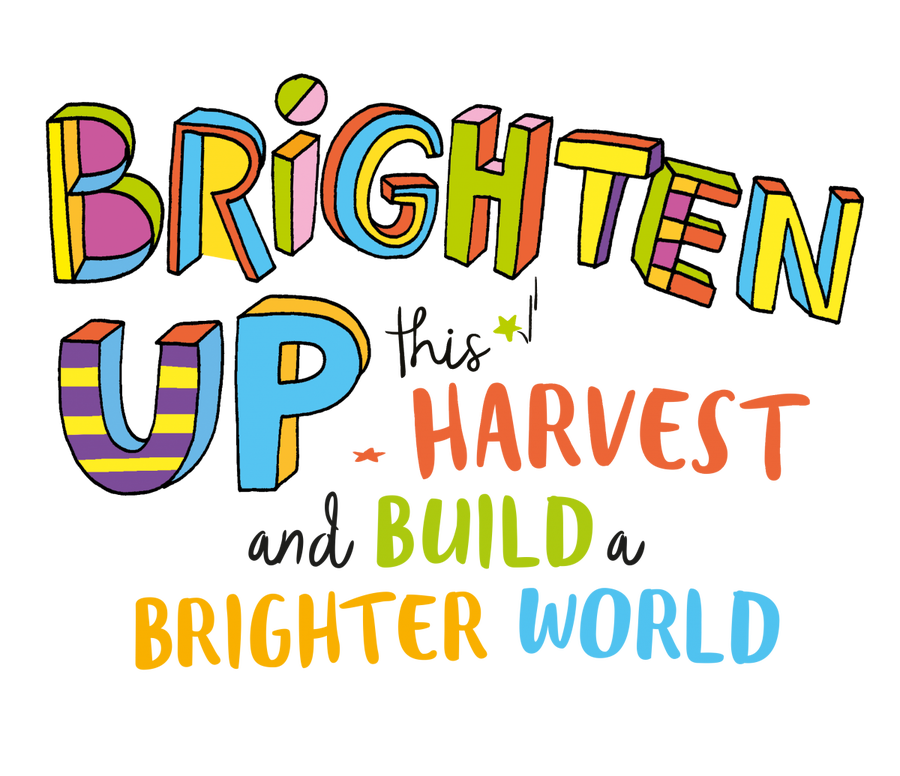 CAFOD ASSEMBLY
Volunteers from CAFOD came into school to talk to the children on Tuesday 3rd October to tell them about the work they do to support people living in poverty overseas. This year they are asking us to 'Brighten Up' this Harvest.
To raise money for CAFOD we will be holding a Brighten Up Your Shoes Day.
Our visit to the local Mosque
Years 1 to 6 visited the Jamia Mosque Madni in Halifax as part of their RE topic about 'other faiths'.
Together for Peace
Today's collective worship was led by our Head Boy and Girl along with representatives from our school council. The theme was around peace. We thought about ways in which we can show peace to others in our school and how we can all work together towards having a peaceful world, showing respect, safety and dignity.
Macmillan Bun Sale
Our Macmillan bun sale managed to raise £119.
A big thankyou to all those who donated cakes and buns and to those who purchased them.
Ampleforth Residential Retreat
Year 5 pupils enjoyed their residential visit to Ampleforth. They had the opportunity to develop their social skills, learn more about the Catholic faith and spend time reflecting on their own and others' personal beliefs. They had fun learning, using and sharing their talents and taking part in a variety of activities.
Mass in Church
Staff and pupils went to mass at St. Bernard's Church. This was our first mass of the academic year to mark the new beginnings.
Collective Worship
Our first whole school collective worship was led by our Head Boy and Head Girl based around the theme of new beginnings.
Autumn Term 1 Parent Newletter (click here to view)
Long Term Overview 2017-18